If you've been closely following my blog, you may have noticed from the title that this is the highest score I've given to a game so far. Yes, I'm even rating Resogun over my beloved Halo games! I absolutely loved this game, and in my mind, it's nearly a completely perfect one. Resogun is action packed, immersive, and insanely fun, and I'm very happy to say it's one of my top 3 favorite games of 2013.
Before we begin, take a look at that video; it helps explain what Resogun is like. I recorded that using the PS4 Share feature.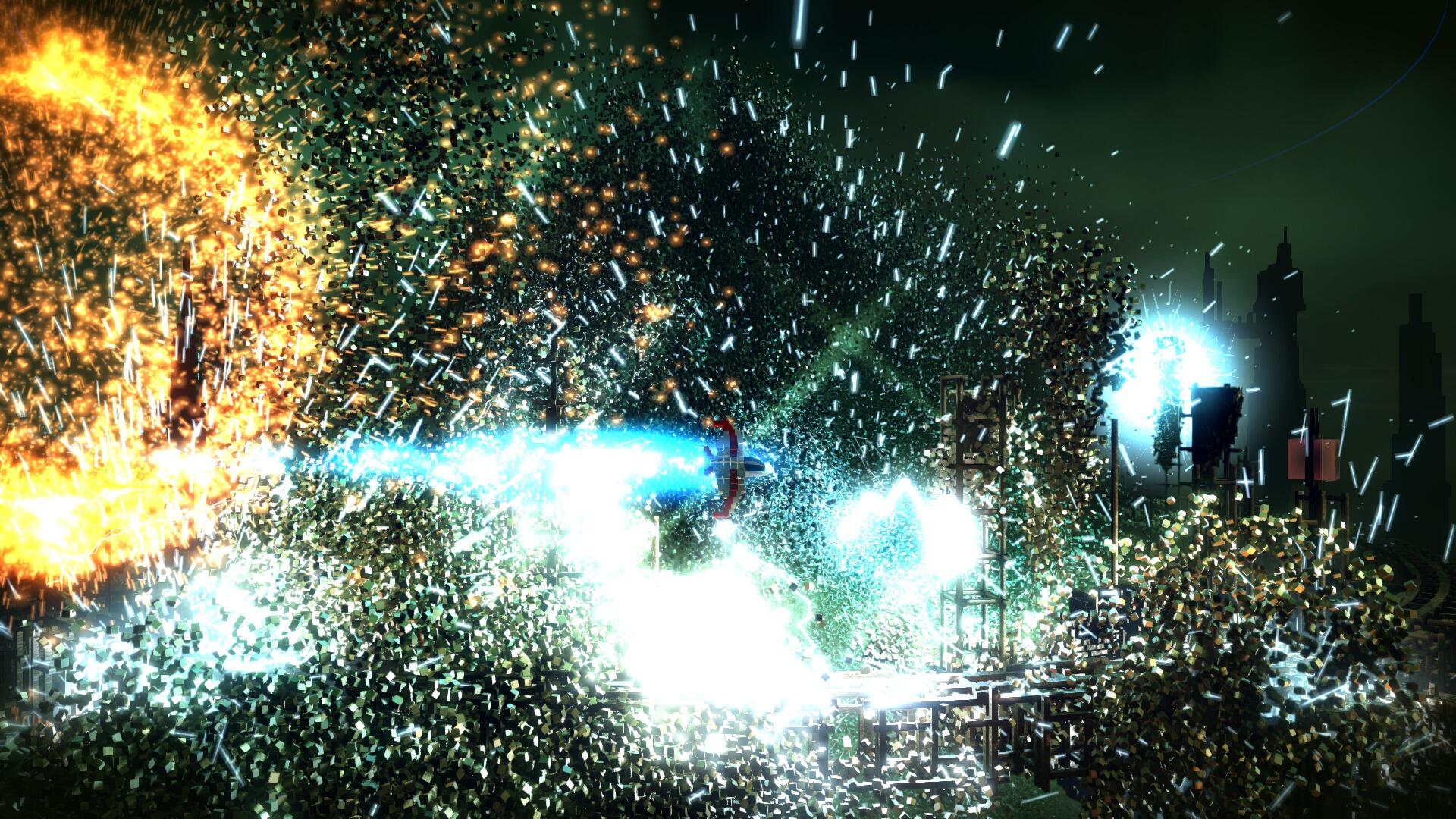 Resogun puts you in the cockpit of a spaceship in a sidescrolling "save-the-humans" adventure. Your mission is to destroy the enemy ships as they spawn using the weapons you have available. You're equipped with missiles and boost; both of which are upgraded throughout the game. By killing enemies, you charge up your overdrive, which is basically a laser of death, and finally, you have bombs which wipe out anything on the screen, but they're very valuable. At times, the "Keepers" will spawn, and you'll know what they are due to their green glow. Destroying Keepers will release a human from his cell; your objective is to swoop over to the human, pick him up, and fly him to a safe zone. Doing this rewards you with a shield, extra points, an extra bomb, or another life; all are valuable. If you don't kill the Keepers before they disappear, however, the human dies; there are a total of 10 to save per round. Technically, it's not necessary to save a single human, but you'll definitely want all the extra bombs and lives you can get for the boss battles.
At the bottom of your screen, there's a progress bar showing you how long you have until the boss battle. Technically you just have to survive until the boss battle, defeat the boss, and you've won; the humans are technically optional. However, you pretty much are toast without the bonuses from saving the humans. I say this because it's a lot tougher to beat the boss with no lives remaining, for example, as compared to having a safety net of an extra life.
There is so much to say about Resogun even though it only consists of five levels. Each level takes approximately 10 minutes from beginning to end, but there are no checkpoints; lose all your lives and start over. Usually this would irritate me, but Resogun is addictive; it makes me want to go back, try again, and win. Whenever I die, I always think "Oh; so close! Maybe next time," rather than "this is stupid, and I'll never win." With that being said, Resogun is wickedly difficult at times.
It comes with four difficulty settings, so I played on the second difficulty level, which was the normal or default setting. It was easy enough that I could beat the levels without having to alter the difficulty level, but it was tough enough that I died a lot too. By no means is this an easy game; let it be known that this game is tough. It's a tough game because it's so fast-paced. A lot of the difficulty comes from the fact that enemies continue to spawn in each direction; there's no time to form a gameplan. Instead, I had to simply strategize as I went along in hopes that it would work out. When I played Resogun, I totally zoned out, and my mind was running on twitch reflexes. Sometimes, I my hands would surprise my brain by flying through a portion without fail, and other times, my brain surprised my hands by hatching a plan on the fly. I eventually learned that there was a bit of strategy that could help me survive. For example, using the boost makes me indestructible for the duration of the boost; using it wisely can get me out of a situation as I plow through and destroy any enemy I touch.
Long story short, Resogun is quite difficult, but at the same time, this difficulty is toned down a little bit by the underlying layer of strategy that isn't immediately apparent; you learn as you go.
The levels progress decently as well. Each level is tougher than the last; there are more enemies to kill, more enemy types, and more mayhem. With that, your familiarity with the game and controls increases, your weapon power upgrades, and next thing you know, you feel trained to go dog fighting in space. I can't stress this enough: the action is insane. By "insane" I mean a rush of adrenaline and excitement. It's insane in the way that makes you feel epic; like a hero. It's insane in the way your heart beats faster and you say "whoa, that was awesome!" It's insane in the way that the game takes a barrage on your senses. Resogun is incredibly fun, not so difficult that you want to quit, and it leaves you coming back for more.
Each boss battle is distinct and takes a different tactic to win. This is a great amount of variety and variation; I couldn't use the same strategy to defeat any two bosses. One took the form of a giant snakelike contraption, but another looked like a humongous spaceship, and yet another was like a set of rings, nested one inside the other. Each one had a different attack and defense pattern, and it took a few tries to learn what had to be done to defeat each one. Victory rewards me with a beautiful victory lap and a gigantic sense of pride and accomplishment. I'm pretty sure I yelled "YES!" after each victory as my heart tried to return to a normal rhythm. Fittingly, the final boss battle was by far the toughest, and the entire final level was grueling; much harder than the rest of them, or so it seemed to me.
Even though Resogun is difficult, never once did I feel discouraged or want to stop playing. It took me over two and a half hours (split into three sessions; one hour, one hour, and a half hour) to defeat the final boss, but I practically had to force myself to shut off the system and go to bed each time. I kept telling myself "just one more try; I can do it this time," even though I couldn't. It was so much fun! Seriously, I sunk probably near eight hours into this game, and I enjoyed every minute of it.
Resogun's soundtrack is satisfying as well. It's a techno-dance beat with bass and rhythm, and it suits the gameplay perfectly. It's the perfect fit, and it helped the experience feel even more immersive. I also loved the colors. I'm a huge fan of color variation in games, and this one was extremely vibrant. all the colors were bright and rich, and they all complemented each other very well; the metallic glint and glare looked beautiful, the explosions were spectacular and colorful, and it created an amazing experience. Just look at those screenshots! Yes; all these screenshots are ones I captured on my PS4 using the Share button.
Even better, Resogun has a great amount of replayability. There are three ships to choose from; each has strengths and weaknesses. I'm tempted to go through and try to win with each ship, and I'm also tempted to gain some more trophies. I'm by no means a trophy hunter; I hardly ever go out of my way for a trophy, but I'm definitely considering at least 50% for this game. There is local co-op, and online multiplayer so you can drag a friend into the madness.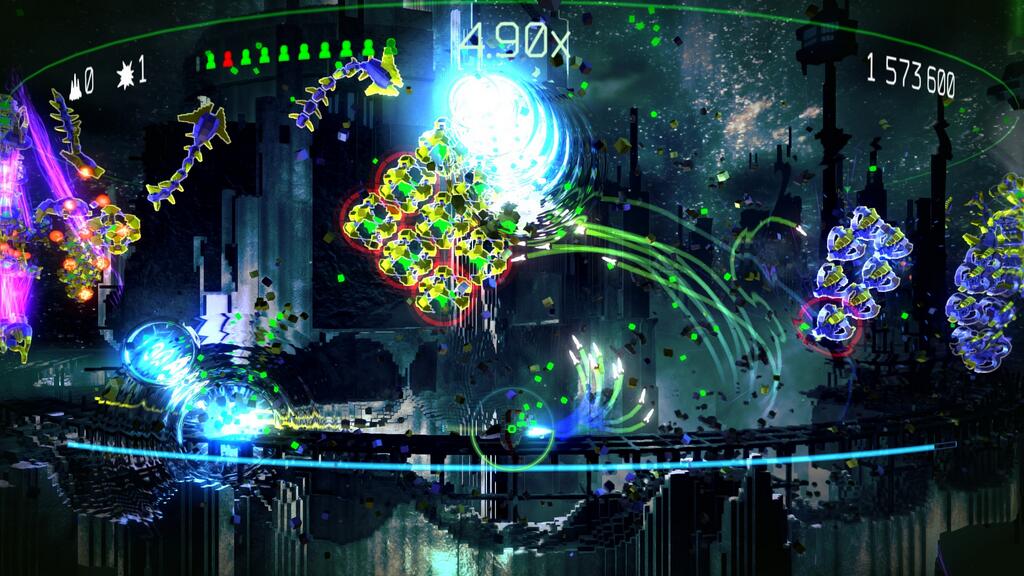 My only complaint is a lack of story, but hear me out first! I realize that this is more of an arcade game than a storyteller, but the developers could have done better. There is a storyline, but it's just there to serve as a simple backdrop: save the humans. At the end of the game, you learn an intriguing piece of information about the humans you saved, but since the game is so new, I don't want to spoil it for you. With that being said, it would have been cool if the game came with a short (even 30 seconds apiece) cutscene between levels, or even a couple paragraphs to read. There could have been something more to the story. Also, the game is free to all PS+ subscribers, but it's $15 for those without the subscription. I like to get at least a dollar per hour out of my games, so $15 for a game I've spent about 8 hours on is a bit pricey, but this won't be an issue for most people; PS+ is practically necessary now.
Resogun is definitely a game you need to download the day you get your PS4. You will not regret it, no matter what genres you play.
Still Amazed
Matt